Why do so many travellers from around the world flock to Bali? Well, the Bali bucket list can be summed up in three words: TROPICAL, CULTURAL AND AFFORDABLE! It can be honestly said that of Indonesia's cities, The concentration of travel activities is the attractions in Bali.
There is a place to visit in Bali for every type of traveller and what I most love is that it's a lot easier on the pocket than other island destinations like Mauritius and Maldives!
From must-see temples to wandering lush emerald rice terraces, the Bali bucket list is a collection of moments that are the best things to do in Bali Indonesia.
Bali tourist places are served up by the truck-load and the fact that Bali is still very budget-friendly makes it all the more appealing!
Apart from the countless places to visit in Bali, here's a few more reasons to seal the deal:
IT'S CHEAP (particularly when you compare it to the likes of Bora Bora)
IT'S HEALTH CONSCIOUS (there are now endless vegan, vegetarian and nutritious food options)
IT'S FRIENDLY (the people in Bali are kind and welcoming)
IT'S GORGEOUS (whether it's the ridiculously stunning island landscapes, the ancient temples or the beautiful jungle and rainforest
IT'S JUST AWE-INSPIRING
I easily fill this article with 100+ attractions of Bali, but that's not the point here. These are the best 10 things to do in Bali.
If you're in Bali for a quick vacay, I wanted to give you the ULTIMATE BALI BUCKET LIST-WORTHY things you have to experience whilst being on the Island of the gods.
Here's hoping it inspires you to return to experience the countless more Bali attractions this paradise has to offer.
Here's a map of Bali with some of these incredible Bali Bucket list locations
1. Try a Floating Breakfast
Swarming the Instagram feeds for the last few years, the Bali floating breakfast is honestly a bucket list item that I strongly recommend you tick off. As a result of it's growing social media popularity, many accommodations in Bali now offer this luxurious experience.
Ubud is considered to be the epicentre of the floating breakfast craze, most likely due to the fact that's the area surrounded by the lushest, jungle and rainforest atmosphere.
Whether you're ballin' on a budget or living the champagne lifestyle, you'll find luxury and affordable options. This is now one of the most coveted things to do at Bali hotels!
Thankfully the craze has expanded to the rest of the island. Below I've listed some of the most popular places to stay to get your Bali floating breakfast:
Want to try a FLOATING BREAKFAST WITHOUT A HOTEL STAY? Try these awesome COMBO TOURS:
2. Explore the Fifty Shades of Green at the Rice Terraces
Of the many (many) sights to see in Bali, this is one of my favourites. Sometimes the bustle of the party scene and crowded beaches makes you crave a bit of solitude and serenity and this is truly the place to find it. There are two main rice terraces to visit in Bali, the first (and more popular) is:
1) Tegalalang Rice Terraces (Ubud)
2) Jatiluwih Rice Terraces << READ THIS POST FOR MORE INFO (North West Bali).
CHECK OUT THESE AWESOME TOURS THAT ALL INCL. A TRIP TO THE TEGEALALANG RICE TERRACES
There is an enchanting and calming nature about being surrounded by vast green rolling hills. Best visited first thing in the morning or in the late afternoon, it sets a gorgeous background for peace and stillness in refuge from the city.
3. Go island hopping on Nusa Islands
The Nusa islands hold some of the most photographed unique landscapes in Indonesia. The Nusa Islands are comprised of:
Nusa Penida << READ MORE ON MY NUSA PENIDA DAY TRIP FROM BALI POST
Nusa Lembongan
Nusa Ceningan
I strongly recommend staying on Nusa Penida and doing a two-day tour with a sprinkling of snorkelling with manta rays too.
Places to visit on Nusa Penida include:
Angel's Billabong (West)
Kelingking Cliff (West)
Broken Beach (West)
Rumah Pohon Treehouse (East)
Atuh Beach (East)
Diamond Beach (East)
Crystal Bay (East)
It's truly one of the most beautiful and unique landscapes I've ever seen.
CAR: NEED A CAR & DRIVER IN NUSA PENIDA? >> CHECK RATES HERE
FAST BOAT: NEED A BOAT TRANSFER TO NUSA PENIDA? >> CHECK RATES HERE
4. Get Jiggy at Gilli Islands
The Gili Islands (Gili Trawangan, Gili Meno and Gili Air) are also definitely worth mentioning. The three islands each have their own inciting activities if you're looking for amazing parties, beach lounging, incredible diving or even snorkelling with turtles– All can be done on these stunning pieces of paradise!
Although Nusa Islands are closer, some prefer to add visiting the Gili islands if you're visiting Lombok too, the next big island East of Bali. Regardless of whether you visit one or both, this needs to be added to your activities to do in Bali
NEED A Fast Boat Ticket between Bali (Padang Bai), Nusa Penida, Gili Islands and Lombok?
This is one of my favourite Indonesia Bali places to visit because I absolutely am in awe of the underwater wildlife and untouched island natural beauty.
5. Experience Sunrise with an Active Volcano in Bali
Trekking to the summit of Mount Batur is truly one of the once in a lifetime Bali activities.
Okay, now a 4 am start might not be for everyone, but gosh, the reward is an experience that will stay etched in your soul forever.
In the stillness of pre-dawn, you will watch as the dark gradually transforms to a hazy pink before the first gilded glow ascends from the horizon.
After the Batur sunrise, you'll witness the sea of clouds engulfing your surroundings which is unlike anything you can compare to in the world.
This is definitely for those looking for more adventure activities in Bali, but it's totally worth the early wake-up and trek! It was one of the most fun things to do in Bali for me at least!
6. Find Peace at a Water Temple
Regardless of your religious background, visiting temples in Bali has been high on the travellers' Bali Places to visit list for years!
Why? Because these are honestly some of the most unique water temples in the world. The two water temples I recommend you top your list with are Tanah Lot and Ulun Danu.
Tanah Lot is great for sunset viewing as its located on the ocean shore and watching the tide come in and engulf the base to create the illusion of the temple floating on water is simply gorgeous.
Ulun Danu is another illusionist temple that appears to float on a lake, coupled with a mountainous landscape as its backdrop, this 350-year-old gem is nothing short of mesmerizing.
Absolutely stunning!
7. Spoil yourself with a choice of Sunsets
There are honestly countless places to enjoy a magical sunset scene in Bali. Whether you're looking for the ocean view, beach vibe, utter silence, cliffside landscapes or lush forest vibes; there is something for everyone!
Here's a couple of awesome choices to see the fiery ombre of reds intertwined with the cotton-candy clouds:
THE LAWN – Trendy cocktails and beach bar with an infinity pool
WARUNG SUNSET POINT AHMED – a quiet place to enjoy the sun descending the should of volcano Mount Batur
MUNDUK MODING PLANTATION – to be in line with the sunset whilst dipping a toe in the infinity pool is simply magical
LA BRISLA BALI – Brushing the brilliant volcanic sands of Echo Beach, A tropical dream, that invites you to slip away into the sea breeze whilst taking in the sunset
PEMUTERAN BAY – isolated, tranquil and serene. This is the absolute height of finding peace in Bali.
SAYAN HOUSE UBUD – tucked into the lush rainforest, the islandy decor and moreish dishes are one of the best places to enjoy a sunset cocktail in Ubud
LA PLANCHA – possibly the most popular and easily accessible place for first time Bali beach goers
8. Stay in a Jungle Forest Villa
If nature therapy is your kind of holiday, a forest hotel is exactly what you need in Bali. As much as some love the ocean view, this island is more than just gorgeous beaches.
Imagine waking to the sounds of chirping birds and becoming engulfed in lush greenery while breakfast is served floating in your private pool.
Could it get any better?
Leave the city madness and enjoy luxurious jungle retreats. Reconnect with nothing but lush green jungles, rich plantations – truly one of Bali best things to do.
Check out these incredible Jungle Forest Villa options: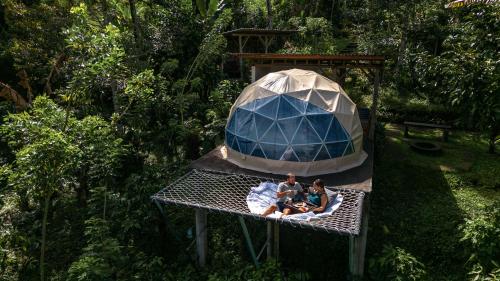 9. Swing into Nature with the Bali Swing
One of the first major attractions in Bali for Instagrammers was the Bali swing. This shot and video are still highly coveted by social media influencers in the travel sphere. It is still one of the must-see places in Bali!
As a result of this demand, the Bali swing has now expanded from Ubud to other areas, but the appeal has not been lost! Swinging into the vast lush green atmosphere of the rice fields or rainforest is really one of the fun things to do! Bali has really brought up its Instagram game!