The images that awaken your island travel wanderlust come from this enchanting gem. Nusa Penida is just one of the most Instagrammed spots in Indonesia. The inspiration behind these many beauty shots across the island is the unusual natural carved rock formations, glistening azure waters, and silk sandy beaches. A day trip to Nusa Penida can literally fuel your Instagram feed for months!
Blues, turquoises, and greens dance playfully through the sparkling waters but the natural rock formations are the true standouts of this iconic island.
A day trip to Nusa Penida definitely needs to be added to your Indonesian bucket list!
There are so many Nusa Penida tours to choose from too and they are extremely easy to find and book ahead of time!
The Nusa Penida islands can be divided into the east and west sides with the trip from Bali to Nusa Penida being a relatively easy one.
Why do you need to visit?
The exquisite beauty of the natural attractions on the island is truly like no other in the world!
Apart from just soaking in the spectacular views, a day trip or overnight stay on Nusa Penida offers the options for ultimate relaxation, pristine photography opportunities, snorkelling and diving at a number of points, and stunning accommodation to embrace true tropical vacation mode.
Must see attractions of Nusa Penida
Angel's Billabong
Angel's Billabong is a natural rock-formed lagoon with a stunning scenic seascape. In previous years, you were able to go down and swim in the aquamarine clear waters. Of late, they have closed off venturing down for safety reasons as a result of the new higher tide currents.
This mermaid-like pool is the final estuary of the Nusa Penida River which breaks effortlessly against intricate coral cliffs before reaching the open ocean waters.
What's in a name?
So, where did this unusual name come from? Delving a bit deeper, according to locals the name of the Angel Billabong comes from the mythic story of this place is a place for an angel bath.
The name also attempts to denote the dead-end effect of the water (like an infinity pool) hence where the billabong comes from in English.
The name is still a bit puzzling to me but it's interesting.
Photoworthy
There are plenty of opportunities to get the perfect Instagram shot (if you're willing to wait in line). These attractions are EXTREMELY popular for foreign and local tourists so it's best to not go on a weekend or public holiday, but it's honestly worth the wait if you're there to get or create the ultimate Instagram inspo or just to marvel at this sparkling enchanting natural creation.
Broken Beach (Pasih Uug)
Broken beach is locally called Pasih Uug (which is Broken Beach in the Balinese language). This little cove at the western part of Nusa Penida has been 'broken' by constant erosion of waves over the centuries.
From above, it looks like the whole area collapsed to form this gorgeous cove. A small opening was formed which allow waters to flow in and out of the little bay.
Local legend
Our local guide explained the folklore around how Broken Beach came to be: He said that his grandmother had once told him that the Broken Beach area used to be a village.
One day a massive snake passed through the village, the villagers without hesitation captured, slayed and devoured the snake.
On the same night, an old beggar arrived at the village who was the owner of the snake.
The old beggar knew that the villagers had killed his snake. But he continued to ask them about his snake.
Everyone lied and said they had no idea of its whereabouts.
The beggar (who was actually some sort of godly presence) pulled out a magic stick and forcefully stabbed it into the ground. If any of the villagers were telling the truth, they will be able to pull the stick off the ground.
The villagers tried and after numerous failed attempts, the old beggar pulled the magic stick. There was a huge earthquake and the whole village collapse leaving no traces of existence. Just a huge hole like the one in Broken Beach now.
Beauty from all angles
Broken beach is absolutely stunning from all angles and what's lovely is that you can completely walk the circumference. The waters are a deep mix of azure blues but the 'little hole' that's carved into the rock face is the stand-out beauty. It's a wonderful example of the beauty of mother nature.
Getting the perfect picture is easy.
There are many spots, but again for the 'perfect' one you may need to queue but it's totally worth it. These places are not worth missing.
Kelingking Cliff and Beach
Pinkie cliff, T-REX cliff, these are just some of the other names it is known by.
The word 'kelingking' translates to 'pinky' (as in the smallest finger on your hand) because it's deemed to resemble it. The other resemblance is to that of a Tyrannosaurus Rex.
Whatever you think it looks like its probably the MOST POPULAR spot on any of the Nusa Islands.
This location has a pretty unique rock formation with a gorgeous yellow sand beach which brings throngs of tourists for the famous shot.
There definitely is a need to get in line for this one.
CAUTION: Because this cliff is quite steep and only uses a bamboo fence as a barrier, you should be careful if you want to take pictures. Avoid locations on the edge of a cliff to take a selfie.
Kelingking Beach
After enjoying the stunning panorama, you do have an option to go down and explore the beach. However, to reach these white sands below you will have to tackle some interestingly-constructed pathways.
The path down is incredibly steep. It's not a concrete path either so it's definitely not recommended to go down during the rainy season or wet conditions.
The beach is rather quaint and there are often not many visitors willing to brave the pathway down.
The azure waters will offer a refreshing break from the humidity. As with any beach, caution must be taken for large waves and your belongings.
Rumah Pohon Tree House
If you haven't seen this image at some stage on social media, I'd be very surprised!
Thanks to Instagram, this treehouse has become infamous and a must-tick item on any Indonesian bucket list.
Rumah Pohon Tree House can be found on the eastern tip of Nusa Penida island. From the main harbour drop off it is approximately a one-hour drive to reach the Nusa Penida Tree House.
At the car park area, you will find a small ticket office where you will have to pay IDR 5 000 for the entrance ticket to Rumah Pohon Tree House.
A place to lay your head too
EVEN MORE EXCITING: You can actually book a night's stay at the Rumah Pohon Tree House which would be a pretty awesome experience and to wake up to that view!
Book your bed below
The house is made of natural materials measures approximately 4 x 4 meters, utilizing the strength of a large tree that supports it. From this house, visitors can witness the beauty of the surrounding nature.
Depending on what time of day you visit the Tree House Nusa Penida, there may or may not be a line of people waiting to get a photo.
The most popular time to visit the Tree House Nusa Penida is around sunrise and sunset, so you can expect more people around these times.
A calm and peaceful natural atmosphere allows those who visit or stay in the house for a unique tourist experience.
The position of the Rumah Pohon Nusa Penida Tree House faces directly to Atuh beach. The beauty of Atuh amazing views are perfectly presented, the expanse of blue sea, and the waves crashing on high cliffs and small islands in the region combine beautifully with the stretch of hills in this region.
Diamond Beach
Diamond Beach has been deemed one of the beautiful beaches one has ever seen, truly something from a postcard! Its untouched powdery white sands and the silken bluewater bay is located on the eastern tip of Nusa Penida.
Diamond beach gets its name from the giant diamond-shaped boulder that is seen walking down the stairs towards the beach.
The view from the top of Diamond Beach is something plucked from the dreams of travel influencers and Instgrammers! Your eyes feast on a stunning white beach, mineral blue waters, limestone rock cliffs and swaying palm trees creating a truly picture-perfect postcard moment.
The main viewpoint is only a 5-minute walk from the parking lot. Atuh Beach mentioned below is on the opposite side of the viewpoint which is great for combining to see on a one-day trip. Nusa Penida East is lovely in that sense as the attractions are very close to one another.
In previous years, prior to 2018, It was not possible to head down to the beach easily (it involved climbed down and over some rocks- not very comfortable), but during the later part of 2018, limestone stairs were carved out to allow tourists to sink their toes into the sands of the actual beach.
Be weary of the tide!
Due to the nature of the tides, it's only advised to visit Diamond Beach Nusa Penida during low tide. The sea in the area can be very rough and with lack of lifeguards etc in the area, this can be very dangerous.
This unfortunately is more of a cosmetic beach, it's not great for swimming due to the number of jagged rocks and corals. If you're a strong swimmer that can manage to duck and dive the waves, you'll get a great cool off, but beware of the current!
The walk down to the beach is not nearly as difficult as Kelingking beach and the total time to spend there is on average 1 to 1.5 hours.
Atuh Beach
Atuh Beach referred to by locals as Pantai Atuh is surely one of the best attractions on the eastern tip of the island of Nusa Penida a stone's throw from Rumah Pohon Treehouse.
The beach is encompassed by magnificent green cliffs, whilst jagged limestone rock formations surround it enhancing the picturesque nature of the area.
The stand-out of the area is the magnificent natural rock arch that stretches over azure and turquoise waters will have you in awe upon view.
There are four main jolting outcrops and islets dotted along the coast of Atuh Beach. All these contribute to the breathtaking views.
Among the treasured beaches of Nusa Penida, Atuh Beach remains at one the top of the list as the most beautiful beaches with killer views.
The glistening turquoise ocean is well guarded by craggy mountains and white sand that begs to be walked on.
Crystal Bay
Crystal Bay is probably the most popular beach on Nusa Penida for catching the sunset. Facing directly west it's the hands-down winner for people trying to have a sundowner, watch the gentle ombre of reds and oranges creep down the horizon.
Palm Tree heaven
On the drive to Crystal Bay, the stand-out is the number of stunning palm trees.
If you drive all the way down the hill towards the parking lot but take a left just before you arrive you will end up in an awesome road that is lined by palm trees.
Its truly beautiful and creates the absolutely truly tropical vacay moment you've been looking for.
Apart from having a drink and watch the sunset, Crystal bay is also one of the main snorkelling spots on the island. It's wonderfully relaxing to be able to lay on the beach sands, pop into the ocean with your snorkel on, and enjoy the depths below.
Snorkeling spots on Nusa Penida
There are three main snorkelling spots on Nusa Penida
Wall Point
Crystal Bay
Manta Point
Snorkeling Nusa Penida is a wonderful treat for water babies.
There are a number of tours that offer half-day snorkeling and sight-seeing options.
TRAVELIST TIP: I strongly recommend snorkeling, but I would recommend you take some motion sickness medication if you're prone to sea-sickness. the waters can get really choppy out there and one the day I visited there were several people throwing up due to the rocky waters and couldn't partake in the adventure.
The day we went out on the waters, it was super choppy and bumpy. I loved it! Half the boat, on the other hand, was getting violently ill. I felt so terrible for them.
We managed to see manta rays on our trip, not as many as we saw at the Komodo islands but it was a great experience nonetheless. Manta Point Nusa Penida may not have as many as Komodo island but if you've never seen a manta before you cannot miss out on this opportunity!
I presume we would've seen more fish should the waters not have been so rough. Nusa Penida is an incredible snorkelling destination and I highly recommend it!
How to get to Nusa Penida
This will involve taking a ferry/fast boat. All of the transits to the Nusa islands leave from the port of Sanur which is in South-East Bali (some do also leave from Padangbai too).
It is approximately 45 minutes from Seminyak or 35 minutes drive from Kuta to Sanur port. Often traffic and multiple pick-ups from your tour/taxi service will make that time a bit longer.
TRAVELIST TIP: You can go to the port and book your ticket but is always cheaper to book in advance because it usually includes the pick-up from your hotel, which can often be an extra IDR 200K to 350K depending on your location and negotiation abilities.
There are some big vessels, which are more like ferries and some fast boats but it's a very short distance from Bali to Nusa Penida. What is important to note, although the word ferry is used, it's actually a fast boat to Nusa Penida.
TRAVELIST TIP: The boat is not next to a dock or landing, there are literally lines of the boats just off the shoreline, what this means, is that there is a very strong likely hood that your pants/shoes are going to get wet. Just take off your shoes if they aren't strapped on or you don't want them to get wet. I suggest taking as little 'luggage' to Nusa Penida as possible and wear waterproof shoes for getting onto the boat.
PERSONAL EXPERIENCE: I always prefer to book online as the price is fixed and there are guarantees. I prefer not to haggle with the vendors on the street in Bali if I don't have to.
Once you're on the boat its smooth sailing for about 20 to 30 minutes and you're on Nusa Penida!
TRAVELIST TIP: On the ferry, Take a window seat as it can often get stuffy and hot inside the cabin. Depending on the boat you may be able to get onto the roof and enjoy the wind in your hair. ALWAYS keep your small bag with valuables and personal belongings with you during the trip.
How to get to Nusa Penida from Sanur Port
The ferry leaves multiple times per day from Sanur (South-East Bali). If you book it in advance online you can have your pick-up from the hotel included whether you are staying in Kuta, Seminyak, Canggu, or even Ubud.
The pick-up will collect you from your hotel and is often a big van that is making several stops along the way (our option was actually a private car). You will organize the pickup from your hotel when you make an online booking.
SIDE NOTE: In Indonesia, things don't often run exactly on time. 'Bali time' is definitely a thing and waiting is a common occurrence. If I must be honest, on the many MANY tours we've done in Indonesia, only twice have the drivers actually been late for a pick-up. In general life though, I've found on many occasions things schedule for a certain time only happening hours later – DONT BE SHOCKED, YOUVE BEEN WARNED!
The journey from Canggu takes about an hour, from Seminyak 45 minutes, from Kuta 35 minutes, and Ubud well just cross your fingers and hope for an hour depending on traffic. Once you arrive at the port, the driver will hand you over to the representative who takes you straight to the office and they will tag your bag and give you a sticker so the boatmen know you are on the right boat.
It's likely you will have to wait about an hour (possibly more) before your actual ferry leaves. If you have big luggage it will be put below the deck by the staff and you will take a seat.
If you're on the other Nusa islands (Lembongan or Ceningan), travelling is also still easy. There are small boats that leave every hour from Nusa Lembongan to Nusa Penida and tickets do not need to be booked ahead of time.
Nusa Penida Map
So let's just pause for a second here and state: BALI IS NOT NUSA PENIDA. Nusa Penida along with two other neighbouring islands, Lembongan and Nusa Ceningan are just a ferry ride from Bali Sanur Port. Check out their locations here
Nusa Penida Itinerary Options
Unfortunately due to the size of the island and the unfortunate nature of the roads, it's nearly impossible to see both the east and west sides of the island in one day.
You could try, but due to the sheer volume of tourists visiting, it's impossible to wait for long at each stop to get your photos in and then drive to the next destination.
I suggest if you want to see both the east and west side, do it over two days.
You're also somewhat limited by the ferry times as they say they depart at 8:00 – 9:00 from Sanur Port and from Nusa Penida back to Sanur the last ferry leaves at 15:20-17:00. I would double-check these times with your tour operator/ticket vendor.
Nusa Penida One Day Itineraries
Nusa Penida West Itinerary
Bali to Sanur Port (30 to 40 minutes)
Sanur Port to Nusa Penida Dock (20 to 30 minutes)
Nusa Penida dock to the first attraction (35 to 50 minutes)
Nusa Penida West sightseeing (3 hours)
Angel's Billabong
Broken Beach (Pasih Uug)
Kelingking Beach – try head down to the beach if you're brave enough and time allows
Nusa Penida back to Bali (evening trip approximately 1 hour 30 minutes)
Nusa Penida West Itinerary with Snorkelling
Bali to Sanur Port
Sanur Port to Nusa Penida
Snorkelling Tour:
Wall Point
Manta Point
Crystal Bay
Snorkelling Point to Nusa Penida West first attraction
Angel's Billabong
Broken Beach
Kelingking Cliff
Sanur Port to Bali
Nusa Penida East One Day Itinerary
Bali to Sanur Port
Nusa Penida to Nusa Penida East first attraction:
Thousand Islands Viewpoint
Rumah Pohon Tree house
Diamond Beach
Atuh Beach
Sanur Port to Bali
Nusa Penida Two Day Itinerary (East and West)
Day 1: Snorkeling and West Side Tour
Bali to Sanur Port
Sanur Port to Nusa Penida
Snorkelling Tour:
Wall Point
Manta Point
Crystal Bay
Angel's Billabong
Broken Beach
KelingKing Cliff
Head to Crystal bay to enjoy sundowners and the sunset
Overnight stay on Nusa Penida
Day 2: Nusa Penida East Tour
Thousand island viewpoint
Rumah Pohon Tree house
Diamond Beach
Atuh Beach
Nusa Penida to Sanur Port
Sanur Port to Bali
Nusa Penida Packing List
Packing for Nusa Penida is pretty easy. If it's a day trip, all you need is your photography gear, swimsuits, towel, and maybe some dry clothes. If it's an overnight stay you'll just need to add another change of clothes. The weather is pretty stable: It's hot! There is minimal shade, so tons of sunscreen and maybe a hat is highly recommended!
Swim wear
Towel
Sunscreen
Photography gear
Light quick dry clothing
Aquaboots
Weather on Nusa Penida
The weather is relatively good year-round in Nusa Penida, However, Indonesia does experience a rainy season between November to April.
Indonesia is a tropical and extremely humid country. Nusa Penida will be hot and if you're going during mid-day, I'd strongly recommend loads of sunscreen. These attractions don't have many (if any) shaded areas.
When to Visit
I'd recommend visiting out of the rainy season so between May to October.
IMPORTANT NOTE: There are also a number of religious and cultural holidays in Indonesia and specifically Bali. There are specific holidays related to the ocean (Nyepi Laut) that involve what is termed a 'quieting of the ocean'. What this means is that on those days, it is prohibited to be in the water, whether it's the beach ocean, or travelling via ferry or boat. These days do not occur on the same day every year, so be sure to check beforehand.
Why you should use a tour for Nusa Penida island day trip?
As is prevalent in the blog, I always recommend using tour guides and companies as it contributes to the tourism industry of the country.
Local guides also have a wealth of knowledge about the land and can share valuable insights into the area, the people, and even folklore.
One thing that I have specifically witnessed about Nusa Penida, is that the roads of the island are BEYOND TERRIBLE!
Seriously it is a bumpy ride even if you are in a car, I can only imagine how uncomfortable it would be if you were on a scooter.
TRAVELIST TIP: Due to the state of the roads, there is horrible traffic, queuing and snail pace driving, but also It really does take a fair amount of skill and maturity to drive these roads, hence why I recommend using a driver and tour company who know and drive these roads frequently.
We witnessed a lot of extremely scary and reckless driving from many tourists who attempted to drive these roads on their own.
From the tourists driving there was a lack of respect for the other tour operators and blatant disregard for safety of others.
The local tour drivers, unfortunately, cannot respect such behaviours of tourists who attempt to ride and explore Nusa Penida roads especially without knowing what the terrain is like and putting other people's lives in danger.
Again I strongly recommend using a tour company or guide for visiting and navigating your Nusa Penida day tour, it is a lot more comforting to know your safety is their chief priority.
Recommended Nusa Penida Accommodation
One thing that sets Nusa Penida apart from Bali is the fact that it only opened up to tourism a coupled of years ago. With that being said, the infrastructure on Nusa Penida is nowhere near as developed as Bali.
There are 4 main areas to stay on Nusa Penida.
West: Crystal Bay
Crystal Bay is probably the most recommended and popular place to stay on Nusa Penida. Laden with stunning white sand and crystal azure waters and the top snorkeling spots on the island. It's also famous for its postcard-perfect palm tree-lined road which leads to a dead-end close to the beach.
One of the highlights of coming to Nusa Penida and especially an overnight stay is to head to Crystal Bay grab an icy cocktail whilst watching the best sunset views on the entire island. The beauty of Crystal Bay is that it is actually close to quite a few of the other locations you will want to visit.
Semabu Hills Hotel
Penida Sunset Ocean View Bungalow
Ruji Ananta Cottage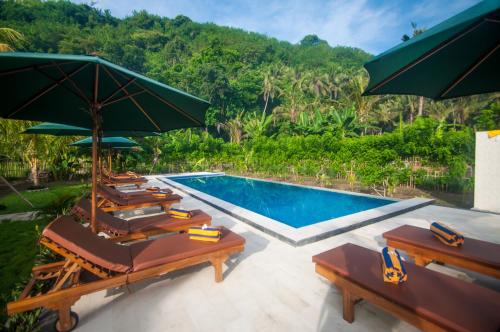 The Tinsi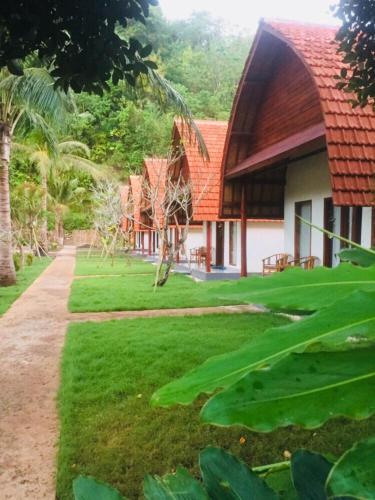 North Western: Toya Pakeh
The North-Western part of Nusa Penida has plenty of scrumptious restaurants and this area has an impressive beach view and access to the water.
The majority of the dive operators are based in this area. There are numerous accommodation types depending on your budget. When it comes to food options, you're spoiled for choice, whether you're looking for local, western, or healthy, you'll find it here!
You're also pretty close to Kelingking Beach and other spots like Broken Beach, Angel's Billabong, and Crystal Bay. It's probably the most popular area to stay for tourists because there are lots of nice hotels, bungalows and budget accommodation and the most across-the-board food options.
Bintang Penida Resort
Nuansa Penida Hostel
Sunrise Penida Hill Resort
Sawit Garden Cottages
Southeast: Atuh Beach
Atuh Beach is a secluded beach on the south-eastern coastline of Nusa Penida. It is a wow moment! Its surrounded by surreal green hillsides and unique rock formations. At the top of the cliff, you will see the infamous view of Diamond Beach.
If you're not short on time, I'd strongly recommend staying on the west side for a night and the east too! The East also has the option to stay at the Rumah Pohon Treehouse!
Rumah Pohon Treehouse
Atuh Forest Cottage
Ogix Cliff Paradise
Frequently Asked Questions: FAQ
Travel Insurance
If anything, this should be a given for any trip you take! But be sure to keep a copy of your insurance details. If Indonesia is not your home country you need to be prepared for anything. All of these experiences have risks.
Check out World Nomads for amazing travel insurance options
Affiliate Disclosure: Some of the links in the article have affiliate links, what this means is, if you click a link and make a purchase I may earn some money to buy a coffee (whoohoo!). Thanks for the support, I'd love to keep making this content freely available to all. As always opinions and thoughts remain my own.
Have you visited Nusa Penida? Do you want to visit now?
Get your camera ready, and your Instagram grab captions on hand for this gorgeous Gem in Indonesia. I can't wait to visit here again. Let me know your thoughts in the comments below!
READ MORE ABOUT BALI
Looking for the best smoothie bowls in Bali? This is your go to guide of…